As the hospitality industry begins to get back on its feet following a tumultuous 18 months, exciting new food concepts are once again looking to tap into their potential and find their feet in the market. It is not easy to scale your business alone, however. Enter Sessions Market. Both a physical food hall presence and accelerator for the most exciting new food brands around, Sessions Market works to help foodie entrepreneurs realise their business potential and thrive in the post-Covid marketplace. Working alongside hoteliers, contract caterers and everyone in between, the business has already helped launch countless new food ventures from budding entrepreneurs across the UK. 
But how does it work? Sessions Market is a multifaceted entity, working through both the use of physical space and digital entrepreneurship. The group partners with promising brands with untapped potential, not only helping them gain a grounded presence through its food hall environment, but also helping them explore their true branding potential beyond the physical. Behind the powerful machine is founder Dan Warne, who has brought his expertise and passion for early-stage brands to the fore. With authenticity at its core, Sessions Market is helping to transform hospitality one brand at a time. 
From Deliveroo to now
Warne is no stranger to the realm of hospitality, having worked extensively with Deliveroo in the early stages of the delivery giant's growth. It is his experience here that helped carve Sessions Market into what it is today. He joined Deliveroo as managing director in 2014, only one year after its founding, and remained there for five years, navigating the group as it witnessed exponential growth in its UK and Ireland markets.
He says: "I joined when it was much smaller than its current interaction, at a time when it operated only in Central London. There were only a hundred or so restaurants on the platform with a 100 or so riders, and together we grew it to what it is today."
During his time here, he gained valuable insights into the workings of up and coming food brands and scalable dining services. Dealing with almost every facet of the business, he oversaw the grocers, restaurant partnerships and rider relationships, as well as customer service and marketing.
Following the success of his tenure at Deliveroo, Warne started to look beyond the delivery giant, and it was then that the idea of Sessions Market came to fruition. Described as the "brainchild" of Warne, he explains that his experience at Deliveroo was central to forging the idea of Sessions Market. 
"At Deliveroo, I was lucky to have a very good view of the restaurant landscape, and the different trends that were evolving in the world of restaurants," he says. "It was very clear to me that increasingly, consumers craved authenticity in the brands they were interacting with, especially in the physical world. I wanted to help create something that would explore this further, and allow food brands to really thrive in the market."
A helping hand 
Sessions Market was thus born, with an aim to provide a space that eschewed the traditional, and helped early-stage brands establish themselves in the sector. Warne felt the current high street offering was "perhaps not as aligned with what consumers really want today, which is typically a more immersive experience, more of a discovery experience where they can learn about brands from an earlier point in their lifecycle". 
He says: "That's what really caught my attention when looking at hospitality today, because although that is what consumers want, it's still very hard, especially with Covid hitting, for those early-stage brands to launch on the high street. You need access to capital, you need relationships with landlords, you need to understand things like supply chains, hire a team, manage your finances, and ultimately build your brand in the right way."
Because of these challenges, Warne notes that a lot of restaurants will sadly fail at this point. He consequently wanted to "set something up in the physical world that could help those brands launch and build up that brand equity and that connection with the consumer". This is where Sessions Market steps in. 
"The way we felt we could do that successfully was to set up large spaces, like food halls, where we could bring together multiple different concepts under one roof, where they could not only benefit from the spectrum of expertise we could offer them, but we could also build out the kitchens for them and significantly reduce the financial barriers to starting a business," he says. 
One of the first ports of call for Sessions Market was therefore the launch of a food hall in Brighton, which offers what is described as a "collective dining environment". Shelter Hall, as it is known, has to date attracted great footfall and given countless early-stage concepts a solid footing in the marketplace. It has already been recognised by the industry and was recently nominated for Peach 20/20's Industry Hero Awards under the Newcomer category.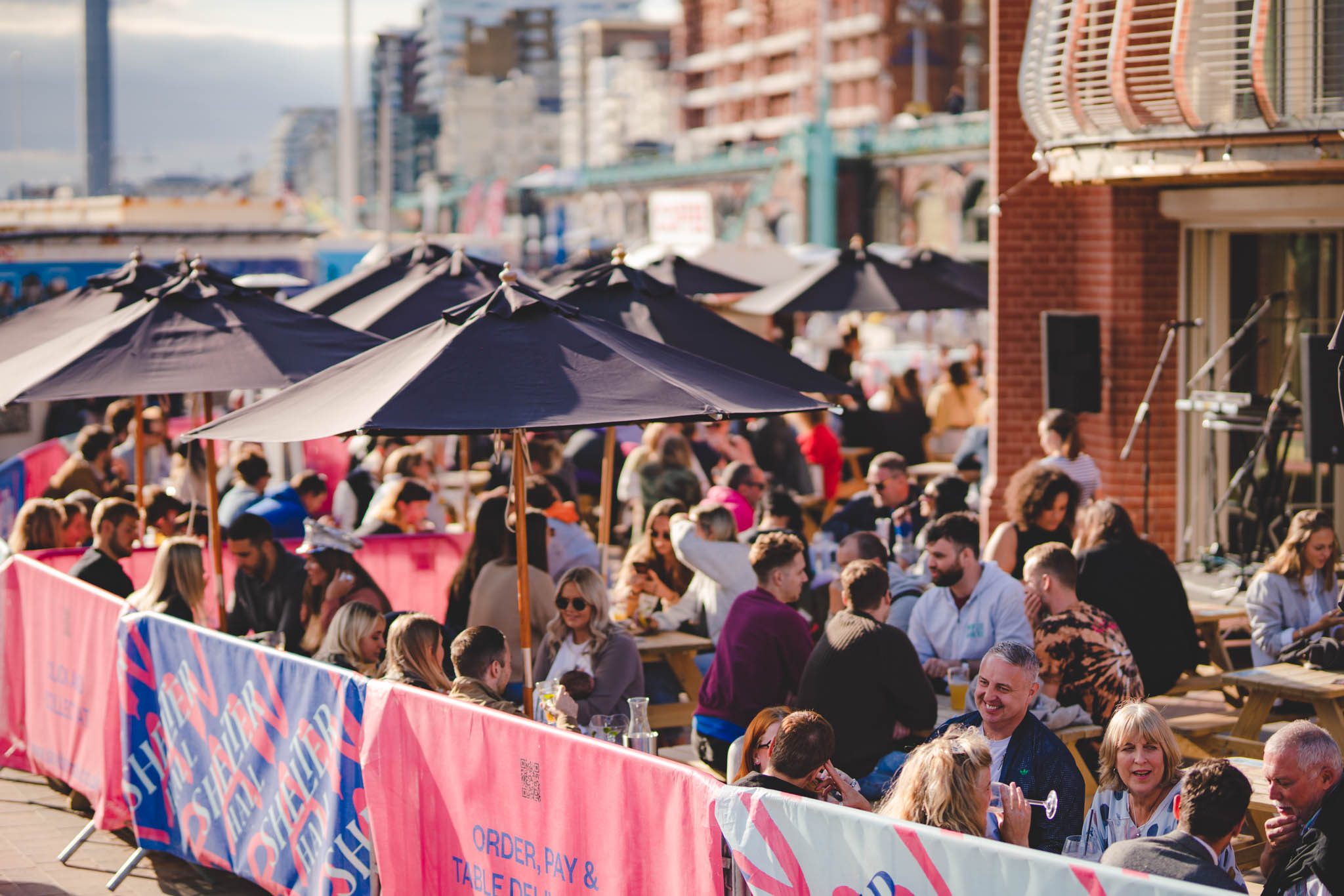 We wondered what made this space particularly special for both food brand founders and the consumers that visit. "Rather than just being a restaurant on its own on the high street, being one of multiple restaurants in a broader offering for consumers gives consumers that discovery experience and a lot of choice and flexibility, which really is the way forward," says Warne. "You can go and every time it will be something different, and not just one uniform offering that never changes. I think that level of dynamism is very reflective of what consumers more often want and expect."
According to Warne, the food hall template particularly works well in the favour of early-stage brand development. "We use physical sites such as Shelter Hall as an anchoring at the earlier point in a brand's journey, and when the brands grow to scale, once they prove themselves and they build up that consumer connection, that's when they tend to work very well in the online world. But we don't do that too swiftly. We're careful to ensure that the brands are ready before we do that, and that they have succeeded in that physical environment before we then pull the trigger on scaling them." 
Beyond the physical
Indeed, Sessions Market is much more than simply a food hall business. Perhaps its most striking offering is its accelerator programme in question. Once a brand has proven itself in the physical food hall environment, it will then work alongside Sessions Market in scaling the businesses outside of the food hall, with everything from developing branding to opening up new revenue streams. 
Warne explains: "We do that with a pretty innovative model. Rather than looking for physical sites on the high street for them, we actually work with them on a scaling plan that involves licensing their brands to other partners and third party operators across the industry." 
Sessions Market has already worked with a dynamic range of operators through its accelerator programme, from contract caterers and universities, to hoteliers across the UK. With partnerships already in place with groups such as IHG, it has worked alongside hotels to help them use what may have once been under-utilised kitchens to the best of their advantage. "Many hotels, for example, typically have good central locations in urban areas and quite large kitchen footprints, as well as substantial labour to cook the food. But what they don't always have is a food offering that's reflective of the authentic need that consumers are looking for, and that is where we can help," Warne explains.
Sessions Market is also keen on helping hoteliers diversify their revenue streams and unlock new ways of engaging with consumers, particularly through the use of delivery. "What we ultimately aim to do is help them to be more engaging for consumers, and many discover that they may in fact work better on delivery platforms. It's a good opportunity for those hotels to open up a new category and thus derive a new revenue stream, for example." 
Partnerships in practice
So how do these partnerships actually work? How can brands with an eye for growth and development connect with Sessions Market and make the most of their service? "We have a brand partnership where we have opportunities that come in through our physical spaces, or incubators", says Warne. "We offer a number of slots, if you like, or kitchens that are available. There are always available kitchens across our real estate so we're continuously having discussions about what we have available in what areas, and consequently what sort of brands might be interested in that." 
Once an interested party is in touch with the group, it works with them on exploring the vision of the brand's concept. "We ask such questions as: 'Do we think it's appropriate for both a physical environment and the accelerator, and for the scaling thereafter?' Then we'll work with them on the menu itself and explore further questions. What are the constituent parts? Is it appropriate? Is it too big or too complex to scale? Is it something that we'll need to help with on the supply chain side? Once we narrow this down, we'll work with them through our marketing team, that will then work with them on the branding."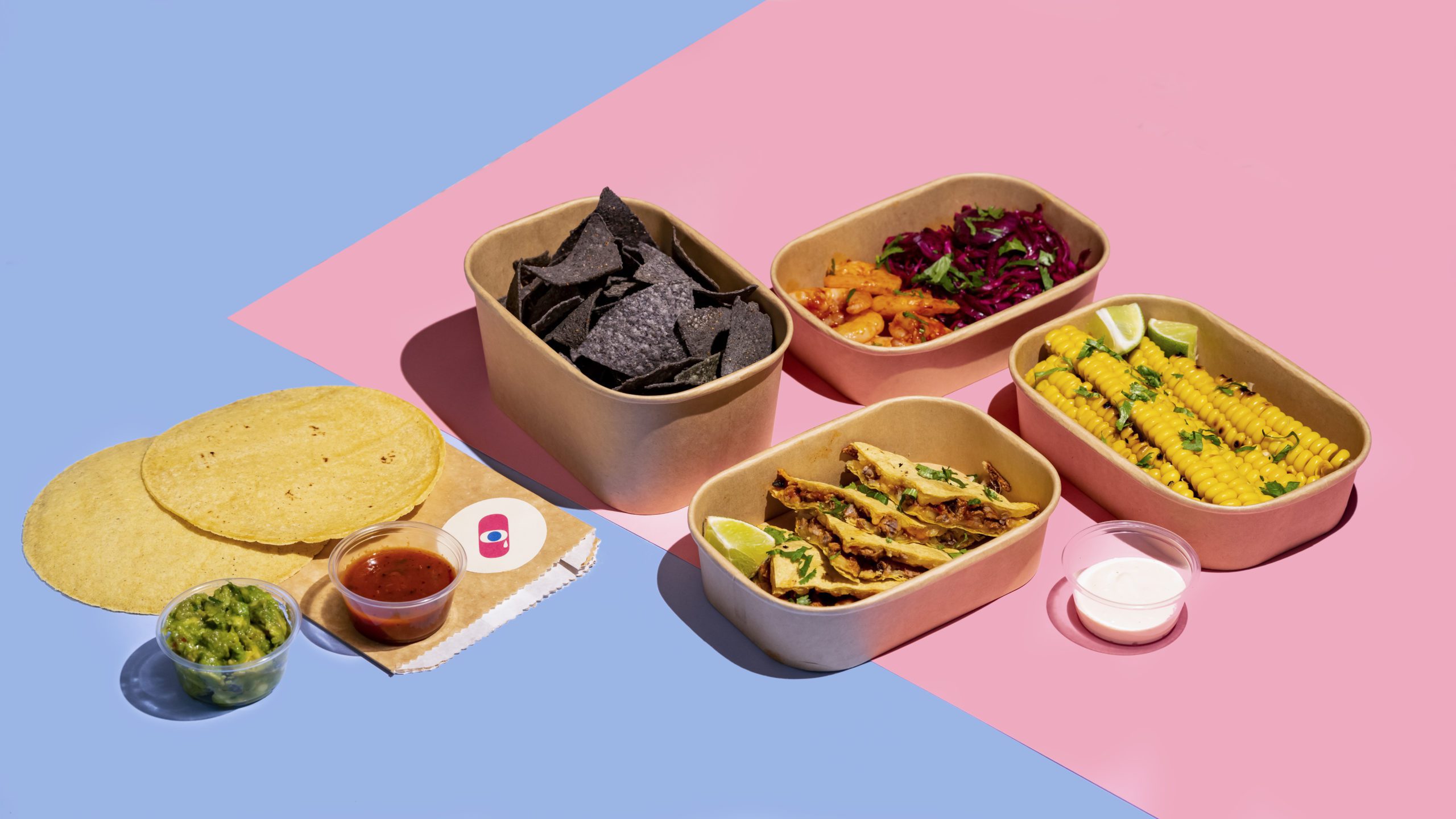 As Warne notes, some entrepreneurs may not want to change the branding aspect. "We only guide them in these areas because it is important that they feel good and strong about their own brands," he says. "At the end of the day, part of the authenticity is allowing them to take the decision on this. We're really only there as a guide to help them along, leveraging some of the experience we might have in some of these areas."
Branding is not the only area in which founders are granted flexibility and choice. "Similarly, in areas like finance, if the partner is open to it then we're very happy to dive in and work with them on how they manage their P&L, how they think about staffing, and how they think about forecasting," says Warne. "But that all really depends on the level of support they want, and that varies. If you have a really well-developed founder where it's not their first rodeo, perhaps they don't need that, and instead they might anchor the development opportunity around something else." 
He adds: "For many of them, they're exceptionally good on the food side so there's not a need for us to insert ourselves there, but on the business management side, there's a bit more work to be done, and that's where they can focus on the creative side, and we can focus on the numbers and how to take their concept and make it more replicable."
Ultimately, he says that Sessions Market does "not like to be prescriptive" in how it works with brands. "They obviously come in lots of shapes and sizes. We need to be accommodating according to their needs, but it's important to us that we can attract these concepts and help them grow to the very best of their ability," he says. 
A gap in the market
Whilst other accelerator groups do exist, Warne does believe there was very much a gap in the market for a group like Sessions Market. "There are other businesses like KERB, for example, who have done a very good job at helping food brands start on their journey, but perhaps don't focus as much on how those brands go on to grow thereafter," he says. "Then there are brands that focus on creating virtual concepts to alleviate that problem, but they tend to lack the authenticity of a brand that has been created by an independent founder." 
In order to provide something different, Warne asked himself how the group could help solve both that start-up phase for the founder, as well as the resulting growth phase. "Through our model we combine both to ultimately offer consumers a much higher quality food product in lots of different cases. Be that at home, in an office environment, in universities, sports stadiums, pubs – we have lots of different types of clients that take our brands under license to be able to offer something that's different from the norm. We ultimately knew this is where the market is going and felt well-positioned to capitalise on that."
Looking ahead, Sessions Market is eyeing further expansion with plans to open more food halls around the country. It is also waiting to unveil a number of exciting partnerships in place within its accelerator business model, with plans to scale more brands through third parties. Warne concludes that "what makes us special is our focus on authenticity and provenance and founder stories, the heart and soul at the centre of these brands. This is what consumers want from the industry, and this is very much the future."